1. HOMEOWNERS INSURANCE EXCLUDES FLOOD.
All homeowners insurance policies exclude flood.  Subsurface water of all kinds is also excluded from the policy.  If the home has water in the basement, you need a sump pump!
You may be able to purchase limited coverage on the policy to protect the home if the sump pump fails or water backs up from a drain or sewer.  Limits and coverages will vary slightly from each insurance company.
2. ALL HOMES ARE IN A FLOOD ZONE.
We often get the question, "Is my home in the flood zone?"  The short answer is yes, every property is in a flood zone.  What will determine the need for and cost of flood insurance is which zone it is in.  Moderate to low risk zones include B, C, and X.  These zones represent 100-500 year floodplains.
The A and V zones represent a higher risk for flood, and your buyer's lender will typically require them to carry flood insurance.  Most of the A zones represent at least a 26% chance of flooding during a 30 year mortgage.
3. FLOOD INSURANCE CAN BE VERY INEXPENSIVE.
If your buyer's new home is in a preferred flood zone, the premium for flood insurance will run between $400-$500 a year.
Most people believe that the disaster relief programs will help after a flood.  Often this "relief" is given in the form of a loan that would need to be paid back – WITH INTEREST!
Flood insurance is the best way to protect your investment from this risk.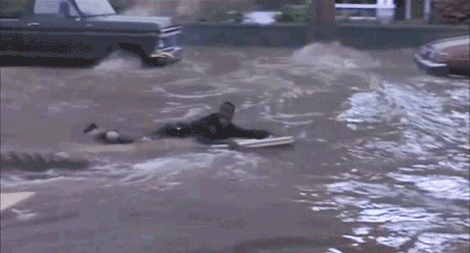 4. IT IS NOT JUST HIGH RISK AREAS THAT GET HIT BY FLOOD.
An estimated 80% of those affected by the Houston flooding in August of 2017 did not have flood insurance.  And 40% of the properties that were flooded in Houston are in zones considered to be a minimal flood hazard.
With weather patterns becoming more severe and unpredictable, protecting your largest asset has never been more important.
5. PRIVATE FLOOD MARKETS ARE EMERGING.
NFIP is not the only game in town anymore.  If the property is in a high risk flood zone and your buyer has a government backed loan (FHA, VA), the lender will require flood insurance be purchased from the National Flood Insurance Program.  No way around that one.
However, if they have a conventional loan, they have more options.
These new flood markets are offering better coverage, often at discounted rates for the higher risk zones.
It's good to have options to compete against NFIP!
Can we help you save a deal?  Shoot us an email at flood@insurewithrichardson.com with the property address and we will send you the flood zone determination (we can also send a flood insurance estimate upon request).